Welcome to Soul Chat - Be Inspired by Thriving Women.
Meet Jenny Lomas from Te Whenua, a peaceful, nurturing & transformative retreat centre.
Jenny, you have transitioned from corporate London to wellbeing in Aotearoa. In ten words describe this journey.
Human hearts long to be on a journey to wellbeing.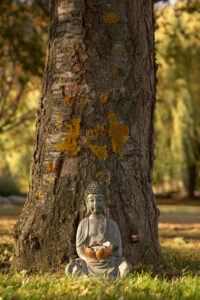 You have created Te Whenua Retreat in Gibbston Valley, Central Otago. What is your vision and why the name 'Te Whenua'?
I've been inspired by fantastic retreat centres in different parts of the world, and have created Te Whenua around the aspects I have found most beneficial. In my experience it's been the simplest, time-honoured spiritual and wellbeing practices (such as mindfulness meditation, a seasonal wholefood diet, self-compassion, time in nature, moving the body in ways that feel good, and getting enough sleep) that have the most profound impact.
This is in contrast to our culture which stokes our desire for 'peak' experiences - including the desire for extraordinary retreat experiences! I believe as a species we have an urgent need to slow down. In this age of distraction, there is nothing more luxurious than sitting still.
We don't need to look outside of ourselves for validation, happiness or wisdom. As the 14th-century Persian poet Hafiz wrote;
"You have all the ingredients to turn your existence into joy. Mix them, mix them!"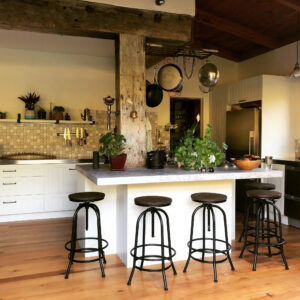 Another important theme is hospitality. This is about nourishing food, but it's also about presence, connection and authenticity. I believe everyone has the power to heal and to awaken themselves, but paradoxically we can't do this on our own. We need others to witness, support and encourage us. There is so much power in community, and this is the importance of the hospitality thread.
The name 'te whenua' means 'land' in te reo and I chose the name for several reasons. It points to the healing aspect of nature generally, as well as the setting of this particular area of land which feels especially nurturing, grounding and safe. It reflects that human activity is impermanent but te whenua is enduring.
As a plant-based chef, I want to acknowledge the land which is the source of all the ingredients for our nourishing meals. And lastly, te whenua also means placenta. For me, rebirth is something that we might experience several times in one lifetime, and time on retreat certainly gives birth to new perspectives and understandings.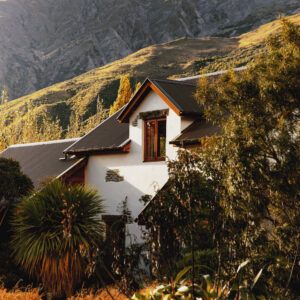 You have been a whole-foods chef at Aro Ha retreat, a Buddhist centre in London and now at your own retreat. What do you love about preparing food for yourself and others?
It's so fundamental. It's the essential daily task of humankind. Along with chopping wood and drawing water, it's about as primeval as you can get.
After 17 years working in a corporate marketing environment and experiencing depression and burn-out, I wanted to get back to the rudimentary tasks of caring for my human body and spirit. So I started cooking every single meal for myself from scratch. This simple, repetitive, nourishing activity restored my soul to a level where I could make new, wiser choices.
All humans need to eat, cooking is in our DNA. Yet we are increasingly outsourcing our food to corporations who create food products in a factory, package them up and sell them back to us in an inferior form. This feels wrong on so many levels; nutritionally, environmentally, emotionally, spiritually and socially.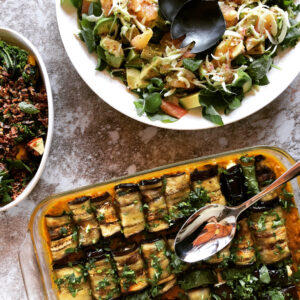 When it comes to cooking for others, the Dalai Lama has said,
'bringing food is the root of all relationships'.
It's the core of hospitality, and regardless of age, gender and culture we feel the warmth of the host's heart when they offer us food.
There is also something about preparing food together which enables conversation to flow. For women especially, this is an enduring opportunity for bonding with one another. Sometimes on the cooking retreats, we talk about the recipes and techniques, but the communal experience of cooking runs deep into our psyche and actually, we spend a lot of time talking about our lives, our joys and sorrows, and that sharing can be as nutritive as the meal.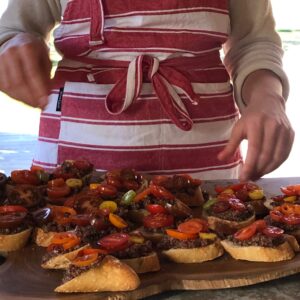 What's your take on, "If you eat well, it changes your consciousness, it changes your blood, it changes your planet. It changes everything" by Joshua Rosenthal?
Before I was a chef I did a three year BSc degree in Nutritional Medicine. At the start of that period of my life, I heard a lecturer say that a human being needs 50 things to survive; we need light & oxygen, and the other 48 all come from our foods - the 48 essential nutrients that our bodies cannot produce or create. This simple fact floored me.
Poor nutrition will ultimately kill you, and good nutrition will positively change everything in your being from your bones to your brain, your energy, your hormones and your ability to fight infections and recover from injury.  It's glaringly evident these days how our choices not only affect us but also everything in our world from animal welfare to climate change. "Everything' in the quote is no understatement.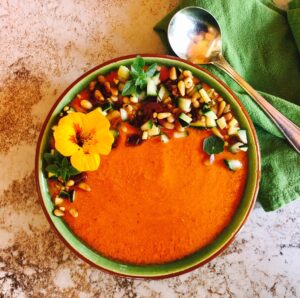 Would you be willing to share your favourite whole food recipe?
I don't have a favourite, but here is a delicious recipe that I created during the recent lockdown which was a merging of banana bread with gingerbread!
Vegan Ginger-Banana Bread
Ingredients:
4 mashed bananas (mine weighed 420g)
1/2 tsp vanilla extract
1/3 cup plant milk of your choice - I used almond milk
1/4 cup maple syrup
1/4 cup molasses
1 1/2 Tbsp apple cider vinegar
1 tsp baking soda
2 tsp cinnamon
2 tsp ground ginger
1/2 tsp ground cloves
1/8 tsp ground nutmeg
3/4 tsp baking powder
½ tsp salt
2 cups white AP flour
Directions:
Line a standard loaf pan with baking paper. I use a wide piece of compostable baking paper so there is a large overhang each side - I can use this as a sling to remove the cooked cake.
Preheat oven to 170°c.
Whisk the first six ingredients together in a bowl or jug then set aside.
Place all the remaining dry ingredients in a large bowl and mix. Pour the wet ingredients over the flour mixture, and stir until combined with just a few streaks of flour showing - don't over mix.
With a flexible spatular, transfer the cake batter into your lined loaf pan.
Bake 30 minutes then turn off the heat and let the cake sit in the closed oven for 10 additional minutes.
Remove and let cool for 10 minutes before transferring the cake to a wire rack to cool.
Store leftover slices in the fridge for 3-4 days or slice once completely cool and freeze. (You can toast slice by slice from frozen).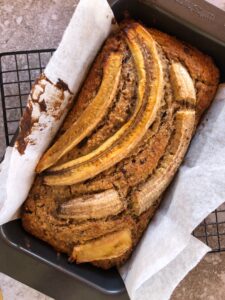 Te Whenua offers a range of bespoke retreats. What are the benefits to those that attend retreats and why do you love hosting them?
The two main retreats that I lead personally are the cooking retreats 'Heart To Table' and the meditation/mindfulness retreats 'Presence & Possibilities'. This is a sincere reflection of two topics I know a lot about, and have benefitted me personally on an immeasurable scale.
You could say that one takes care of your body and the other takes care of your mind, but actually they are two doorways into the same room.
On the 1st of every month I offer a 'Quiet Day Of Meditation & Rest' which is an opportunity to be a day-guest and experience the tranquility of Te Whenua, join some optional guided meditation, or just rest, read, nap, sit in the garden, and essentially opt out of all the usual social chitchat that is expected of us and draws our attention away from our inner experience. These are super popular days with the local Queenstown community who often have a fast pace of life!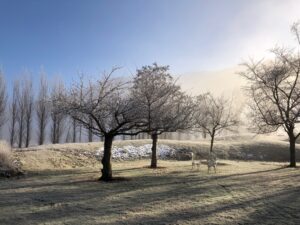 All of the retreats have an overarching aim of reorienting people to the present moment, and to slow down for long enough to hear what their own soul is asking for.
The retreats are open to everyone - no experience required. I meet you wherever you are. I love hosting small group retreats as I think the relational aspect is an important factor in our growth and healing.
You can read specific testimonials on our website, google reviews, Facebook reviews etc. People tend to comment mostly on the peace they felt, and how they were inspired to continue on their journey once the retreat ends. The word 'nourish' comes up a lot!
I've only been running retreats since Oct 2020 and already we have had a very high number of returning guests.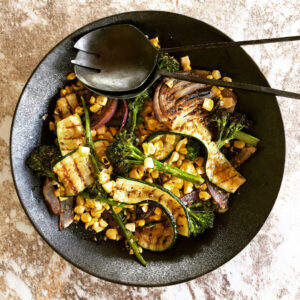 Te Whenua hosts Death Café and natural death gatherings. Please share why it's important that we have these conversations.
I host a Death Cafe approximately four times a year.  Death Cafes are a hugely successful worldwide phenomenon that started in London in 2011. It is a not-for-profit movement that allows people, often strangers, to gather over tea and cake and talk about death in a safe and supportive environment.
Death is still an uncomfortable conversation for many people, and the Death Cafe movement is aiming to sensitively normalise the subject. Death is one of the few things we all share in common, and talking about it candidly brings a lot of ease. It's such a wide-ranging topic that very quickly the conversations become free-flowing and enlivening.
Far from being morbid, these gatherings are life-affirming and typically leave people feeling uplifted and empowered.
For me personally, the strongest take-out is that life is finite; I am much more focused on making every day count.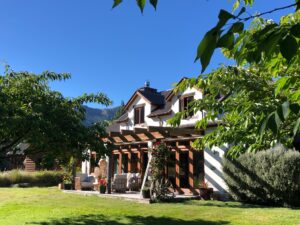 You once undertook a 90 day silent Vipassana retreat. How was this experience?
In my late 20's I felt like I was at the mercy of my mind and my emotions, with no control over what I thought or what I felt. I experienced myself as a very fixed and solid personality, with many less than desirable 'quirks' that seemed integral to who I was. I felt a lot of stress coupled with huge amounts of self-judgement, blame and regret.
This long retreat (and multiple shorter retreats that preceded it) was priceless. Spending 90 days in silence, committing to 18 hours a day of intensive meditation under the guidance of some of the western world's greatest Buddhist meditation teachers, was an unparalleled privilege.
It helped me understand the true nature of my heart/mind, and see how and why the mind gets 'stuck' in patterns of rigid thinking or chaotic restlessness, and how to skillfully navigate that.
The retreat helped me understand the nature of emotions, the cause and effects of our actions, and the source of real happiness and contentment. The positive ripples from this long retreat are still affecting my life in significant ways, ten years later.
Needless to say, this inner journey is still a work in progress, but the three-month retreat resulted in many profound insights that gave me an unshakeable faith in the 'roadmap' I am following and the goal. I am an ardent meditator and continue to attend silent retreats every year.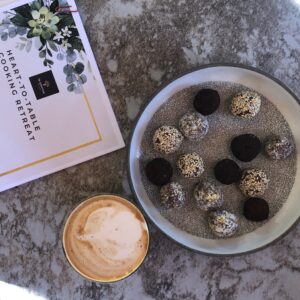 How has the transition been from employee to self-employed?
It's been a transition for sure, but it's been fantastic. I love the freedom that being self-employed gives me, and my personal & professional development has gone through the roof as a result of having to up-skill in so many new areas.
It's a lot more hard work but for me, it's been worth it. I have never once looked back.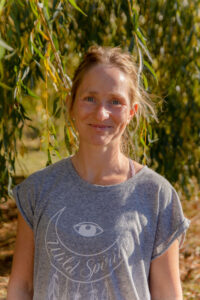 Finish these statements –
Our shadow is… just another thing to be mindful of.
My tribe means… I don't like this word as it implies segregation. My tribe is all of humankind. And all the animals, rivers and plants too!
Challenges have taught me… courage, perseverance, patience and acceptance.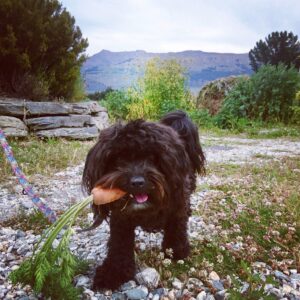 A poem that resonates strongly with you - 
Hokusai Says, by Roger S Keyes
Hokusai says look carefully.
He says pay attention, notice.
He says keep looking, stay curious.
He says there is no end to seeing.
He says look forward to getting old.
He says keep changing,
you just get more who you really are.
He says get stuck, accept it, repeat yourself
as long as it's interesting.
He says keep doing what you love.
He says keep praying.
He says every one of us is a child,
every one of us is ancient,
every one of us has a body.
He says every one of us is frightened.
He says every one of us has to find
a way to live with fear.
He says everything is alive—
shells, buildings, people, fish,
mountains, trees, wood is alive.
Water is alive.
Everything has its own life.
Everything lives inside us.
He says live with the world inside you.
He says it doesn't matter if you draw,
or write books. It doesn't matter
if you saw wood, or catch fish.
It doesn't matter if you sit at home
and stare at the ants on your veranda
or the shadows of the trees
and grasses in your garden.
It matters that you care.
It matters that you feel.
It matters that you notice.
It matters that life lives through you.
Contentment is life living through you.
Joy is life living through you.
Satisfaction and strength
is life living through you.
He says don't be afraid.
Don't be afraid.
Look, feel, let life take you by the hand.
Let life live through you.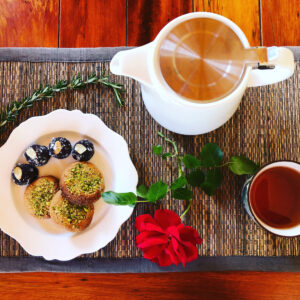 Favourite Shine Your Light card and why? 
A significant part of my own journey has been moving from independence to inter-dependence. This has been a great un-learning as I was conditioned my whole life to be independent.
I was taught that I needed to be able to take care of myself, to be totally self-sufficient. And by the same token, I believed that other people did not / should not need my help.
I chose this Shine Your Light card as it highlights our responsibility to each other.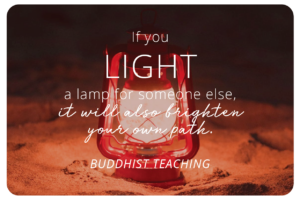 To learn more about Jenny and Te Whenua Retreat head to -
https://www.tewhenuaretreat.co.nz/