"Thrive in Light empowers women to thrive with heart and soul. To not just survive, but thrive by shining the light that is uniquely ours to shine."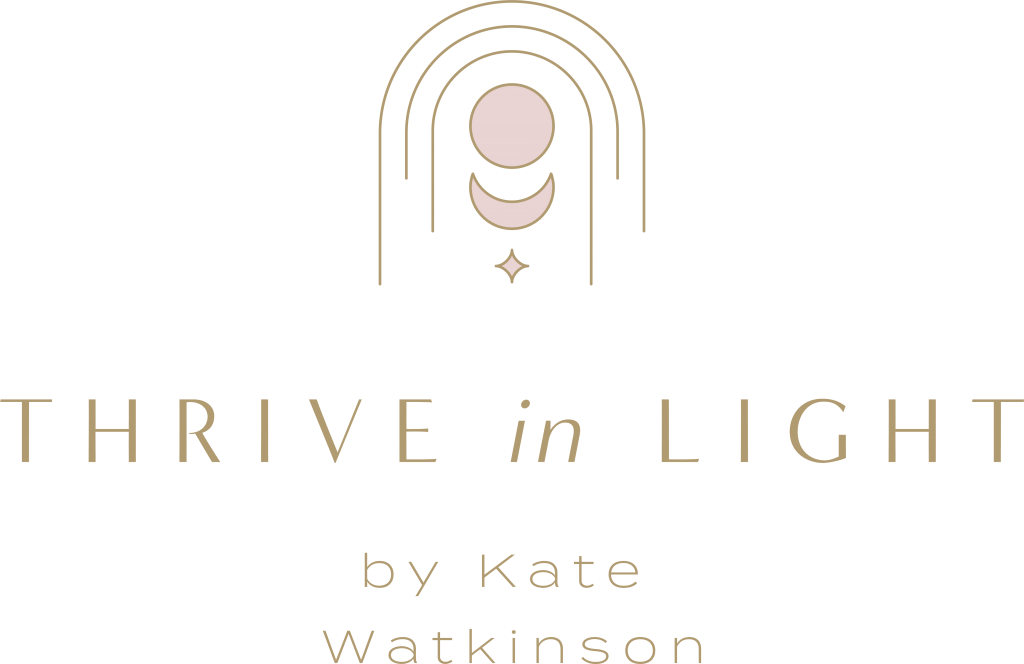 Thrive in Light is the sacred work of Kate Watkinson to empower women to live thriving lives with heart and soul. To thrive is to flourish, grow, blossom, succeed; to live your best life. And light is to shine, ignite, brighten; to share your gifts. Thrive in Light invites you to thrive with Yoga, Qoya and Soul.
Let the beauty of what you love be what you do "
And I do! I live by this quote to let the beauty of what I love be what I do. I love empowering women to live thriving lives with heart & soul! I love that I have answered the call of my soul to do sacred work that nourishes both myself and you. I love that I don't merely survive, but that I thrive. You too can love what you do and who you are!
YOGA – classes, retreats, events, bespoke private sessions. Nourish your nervous system. Make it happen today.
QOYA – gatherings, retreats, events, bespoke private sessions, rituals. I create special work dos, celebrations & blessing ceremonies.
SOUL – meditation, yoga nidra, private empowerment sessions, podcasts, interviews, reiki, energy healing, keynote speaking, inspirational writing. Book a healing session to move from surviving to thriving.
Once upon a time a 21 year old Kate attended her first Yoga class. She experienced a sense of coming 'home', of resonating with a deep truth of trust & peace. The strong desire to share this with others followed. Kate undertook her first formal training in 2006, becoming immersed in the philosophy & awakening of Yoga. She travelled to Peru & to Findhorn Retreat, Scotland, to further her journey. 
With any good story there is a dramatic turning point. Kate's was the birth of her three children. Through mothering Kate learned the real depth of life; finding the sacred in the ordinary; loving unconditionally, how to practice Yoga off the mat through thoughts, deeds & breath. The depth of learning, pain & joy, wonder & frustration of motherhood has given Kate gifts that have fed into her Yoga teaching and personal practice. 
Ten years after her initial training, Kate undertook the Yoga Teacher Training Diploma Course with the International Yoga Teachers' Association (IYTA). The course is based on the philosophy of Patanjali's Eight Limbs from the Yoga Sutras. It is rich in the true ethos of Yoga – union of all aspects of our being, oneness, compassion & right living. Kate teaches Hatha Yoga with the intention of lighting a flame within the student of true Yoga that is spread through authentic, heart-centred humanity.
Through Yoga, Kate invites you to be peaceful and heart-centred.
FREE SOULFUL & FUN YOGA SEQUENCE

A short but powerful and positive Yoga sequence for you to Thrive in Light. This will put a smile on your face.
Qoya brings Kate home to the divine feminine, to being a conscious, authentic & empowered woman.  It is a releasing of the 'good girl' who conforms & pleases others to being a 'true woman' who knows herself; who expresses both the shadow & the light; who lives wise, wild and free. Qoya is a tonic to the world of responsibility, & life in a patriarchal society. It is a place that we can be liberated, sensual, creative and wise.
The community of conscious women that gather for Qoya is one of the greatest gifts that Kate has received. To have a safe place to express without judgement, to release without fear, to dance without objectification. Kate's intuition, creativity, wisdom & divinity have all flourished with having Qoya in her life. Yours will too!
Kate began her Qoya study in 2018 with an Introduction course followed by an Initiation course.  Then in 2020 she plunged into the depths of the Intensive course. 
Kate's teaching invites women to return to their heart & soul, holding space for them to awaken to their own guidance.  It is not based on a guru/student model.  We are all our own gurus. Kate aligns completely with Rochelle Schieck's philosophy that, "A teacher doesn't teach you anything you don't already know; rather, a teacher awakens something inside you that you remember."
Through Qoya, Kate invites you to welcome the wisdom, the wildness and the freedom of your femininity.
FREE for YOU – 'ROCK your SOUL' MUSIC

Receive a music playlist to set your soul on fire, dance like no one's watching and feel the oneness.
Soul Inspiration is the third pillar of Kate's work.  It is the heartfelt writing of blogs, newsletters & books; the soul awakening sessions with clients, the connecting with other conscious women through Shine Your Light conversations, the meditations, prayers and ongoing spiritual practice. 
The soul element is the sharing of reiki and energy healing with clients. It is the 1:1 sessions that empower women to thrive.
It is the talks that Kate offers to organisations to encourage an awakening of consciousness. Kate likens her work of Yoga, Qoya and Soul to the holy trinity; the sacred three creating a whole.
Kate lives on a farm in Southland, New Zealand with her husband and three children. In addition to Yoga, Qoya and Soul practices, Kate thrives on being in nature, tending her vegetable garden, travel, reading, moving her body & time spent with loved ones. 
While Kate's life is not a fairy tale, or a constant state of blissfulness, it is true, it is potent and it is lived with heart & soul!
A GIFT FROM my SOUL to YOURS – FREE MEDITATION

Meditation is a great way to support you in living with heart and soul. Please sign up below to receive audio goodness. 
'You don't have to be in the presence of Kate for long to feel the love and light that shines from her. Kate is a fantastic teacher and really thrives on sharing her talents and knowledge. She has the ability to make yoga approachable yet deeply soulful. I love that Kate is committed to living her best life and supporting women to do the same comes naturally to her. She understands that together we are better."
"Warmth, sincerity, heartfelt and passionate just some of many qualities that Kate channels through in both her yoga classes and retreats. I had the beautiful experience of collaboration, all born from the ease of one phone call. What I love most about Kate is that her inherent light radiates out to the world and is magnetising in all its essence to all those she crosses paths with. Thanks for exemplifying Thriving in Light my friend."
"We've had the absolute pleasure of attending Kate's yoga classes. She has a relaxed manner but her experience shines through with her teaching. You feel fully supported by Kate. Her passion for all things yoga and thriving in life shines through in all she does. We are grateful to work alongside Kate at events and know that whatever her goals, she will reach these with an honest, open heart and ready smile."
"Kate is an intuitive, caring and knowledgeable yoga teacher with a real gift at creating an amazing and uplifting space to 'be'. I attended a Yoga retreat created and organised by Kate recently - it exceeded my expectations and I came away refreshed, energized and inspired. I am looking forward to doing another."
"I've worked with Kate on two retreats, and loved every moment of the time we got to spend together. Kate shows up with integrity - you know you can always count on her. Her energy is grounded and uplifting at the same time - holding the best for everyone around her. It's easy to see how important inspiring women is to her, and how much she cares about encouraging women to own their gifts and share them with the world, by the love and passion she puts into her work."
Thrive in Light is a Conscious Women's Movement Sharing the Gifts of Yoga, Qoya & Soul.
Empowering Women to Thrive.
Please note that while I deeply value higher education & qualifications, I also believe we can learn much through less formal avenues. Sometimes great learning occurs in 'unlearning' conventional beliefs and societal norms. Many of my powerful teachings have come in the form of intuitive knowing, from nature and meditations; from the whispers of my soul. 
Eastern Reiki Tradition, Shoden Level, 2022
Qoya Intensive Teacher Training, Qoya International, 2020
'Work Your Light' Lightworker Training, Rebecca Campbell, 2020
Qoya Initiation Training, Qoya International, 2018
Qoya Introduction Training, Qoya International, 2018
Trauma Informed Yoga Training, UpRising Yoga (USA) 2018
A Call to Create, Qoya International, 2016
Yoga Workshop Immersions with Mark Whitwell, & also with Anna de Zeeuw, 2016/2017
Diploma of Yoga Teacher Training, International Yoga Teachers Association of NZ, 2016 – 899 hours
Yoga Introductory Course, International Yoga Teachers Association of NZ, 2006
Post Graduate Diploma, Tourism Major, University of Otago, 1999
Bachelor of Arts, History Major, University of Otago, 1998
And many workshops, much reading, participation & facilitation of retreats, a non-negotiable daily spiritual practice, countless meditations and spiritual seeking.
"Work is love made visible."