Soul Chat with Georgie McGregor from Havrincourt Farm
Welcome to Soul Chat - be Inspired by Empowered Women Thriving with Heart & Soul.
Meet Georgie McGregor from Havrincourt Farm, cottage accommodation on the Rail Trail in Central Otago. Georgie is a passionate creative who loves nature, gardening, rural life, her family and ... wool!
Georgie and I were neighbours growing up and spent our free-range childhood playing outdoors on the farm, in Georgie's awesome garden and indoors creating and enjoying free play.
*   *   *   *
Tell us about Havrincourt Farm Cottage and how you have utilised your creative skills and entrepreneurial attitude to bring this haven to life?
We bought our farm six years ago. As well as our homestead, we have a very old stone boundary riders house and also another three-bedroom cottage. With a dream to restore the stone house for accommodation, I thought the farm cottage might be an easier place to start, to see if people would actually want to come and stay on the farm.
The cottage was in its original 1980's state from when it was moved to the farm and sat in a paddock with no garden. We have slowly chipped away at painting inside and out and I have sewn the curtains. Most of the furniture and bits and pieces are overflow from our own house. There hasn't really been too much conscious design of the interior, which is perhaps what gives it a homely relaxing feel, which our guests love.
As a Landscape Architect I have been a little more strategic with design to the exterior, painting the walls a charcoal colour, with simple mass plantings of tussocks, an edible vegetable garden area and a sculpture made of old hardwood fence posts from my family's farm. Steps down from the original deck to a limestone chip courtyard makes a lovely outdoor area with a stunning view across the farm paddocks. The garden needed to be easy-care, done on next to no budget, and we did all the landscaping ourselves.
I originally listed the cottage on Airbnb but after starting up a Facebook page for the cottage, it was picked up by local Otago Central Rail Trail planners as they have a shortage of accommodation at Hyde which is 20 minutes away. We have a spare car that we are able to leave at Hyde for guests to self-drive to the cottage. It has grown and now keeping me quite busy. I'm able to tap into some of my other passions by setting the table with fresh flowers from my garden and providing home-cooked meals for guests who don't wish to cook for themselves.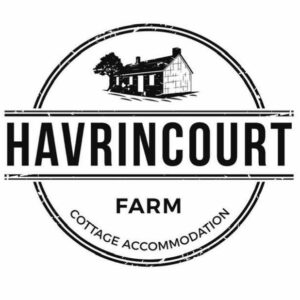 How does being a woman in an isolated farming community shape your outlook on life and how you do business? Does the natural landscape and the rural community inspire you?
I love living away from the hustle and bustle and while living here in the Nenthorn Valley has its challenges such as a lot more driving to take kids to after school activities, preschool, etc I wouldn't have it any other way. The recent lockdown made me evaluate how much driving I was doing and brought some positive changes with it.
I do a main shop monthly with just milk, bread, fruit and vegetables (when not available from our garden) in between. I do most of my groceries via online shop which is a major time saver when my irregular town days get very quickly filled up with other jobs. I actually avoid going to town as much as possible which is now pretty easy with so much available online and we are lucky to have a great mail delivery service with collection from the main suppliers in Palmerston.
I look forward to weekly Wednesday morning playgroup sessions at Macraes with my 2-year-old as it's a great catch up with local mums. While we are not close to much else than our local village, which has a school and hotel, we are not far away from a lot of locations such as Naseby & the Maniototo, Moeraki, Oamaru and Dunedin so when possible we do day trips with the kids.
We have bought a 1970's caravan which is the project next in line to allow us to get away to these places for overnight stays as the farm and cottage business allows.
With all the technology and social media at our fingertips, running a business from a location like this is really no different. We really are so lucky living in an area with a slow pace of life and beautiful scenery all day long. People that come and stay are blown away at how quiet the place is and it is lovely to be able to share the serenity and natural landscape with them.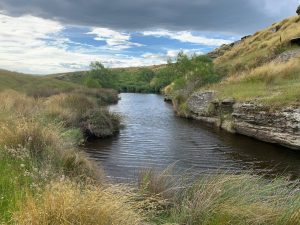 Georgie, you have always been passionate about gardening and creating. How is this a part of who you are at a soul level? Is gardening, nature, and the creative process an expression of you living your truth?
Gardening, creating, art and cooking are the things that make me feel content and I love to share these with other people. All of these aspects have always been at the core of my passions.
That's such a hard thing to answer but I suppose they have always been part of who I am and I think more than likely things I will go on to do for the rest of my life.
I think to be true to yourself you have to do the things that make you happy and these are the things that help to make me happy.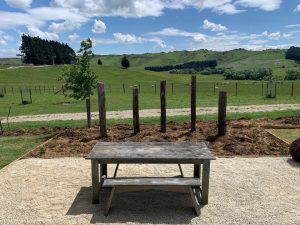 Georgie prior to having your family you ran a successful business in Wanaka, Georgie P Landscaping. How has moving to a rural area, marriage and motherhood transformed you and your life priorities?
This is a very timely question as this month, I wound up the business I started 20 years ago when I moved to Wanaka. Meeting my husband Duncan has meant moving to a number of rural areas during our life together and then finally settling where we are six years ago.
I continued to run my business through having three children and I was lucky that technology allowed me to do this, along with a lot of time on the road, although I look back now and wonder how on earth I managed to fit it in around babies. I think the juggling of work and children has slowly meant the passion I had 10-15 years ago for what I was doing isn't as strong and it feels right to be focusing on something closer where the children, our farm and home are now my priorities.
Having the accommodation business still allows me to meet and interact with people and many of the skills I learnt through running my own business at a young age have been very much transferrable to farm administration, budgeting, and planning with the creative side now unleashed in our house and garden.
With a three, five and seven year old, most of my time is taken up by them and it feels right that it's where my proprieties sit now. The kids are old enough to start spending family time on the farm together which we all love.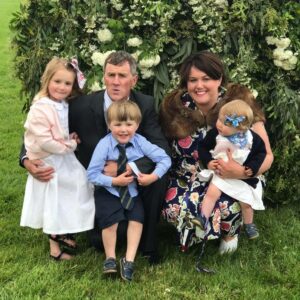 You are passionate about natural products, so much so that you created the NZ Wool Products movement to showcase the magic of wool. What is your vision with this movement, why is it important we use natural fibres and what is it that you love about wool?
I've grown up wearing wool and we have always been conscious of dressing our family in wool whenever possible. I get so frustrated by the promotional products we get sent by farming supply companies made of synthetics. Even the man we used to buy our rams off sent us a nylon beanie.
Over time as a society, cheap and easy took priority. Manufacturers have been able to take advantage of this and you only have to go along to a school event to see that most kids, even farm kids will be wearing branded synthetic clothing.
Wool offers so many amazing benefits that no other products can, it is just so sad that interest in it has declined so much over the years. That is slowly starting to turn around and I think the events of 2020 have made most of our society take a hard look at what they are buying and where it comes from.
People's knowledge of the harm that microfibres of plastics and synthetics can have on the environment is starting to change and that is great. When you can buy a product that can be composted when it is finished with rather than exist forever in a landfill it is just such a no brainer! Wool ticks all the boxes for a sustainable natural product made right here in New Zealand.
I wanted to buy a wool duvet for the cottage and went looking for options and was surprised to find one made just over the hill in Dunedin. If I was pro wool but didn't know something so close by existed, how would the general public know! Without much thought I set up a Facebook Group with the sole purpose of people who produce NZ Wool products being able to put up a post promoting their product.
The group has close to 5000 members in three months and it has had lots of positive feedback. There are so many amazing wool products coming out of the woodwork! There is a huge amount of work needing done to turn the industry around. This initiative is just a tiny part of that but if it can help make people think twice about what they are buying, and if they know they may be able to find a NZ wool alternative to something they are looking for, then it is all part of a step in the right direction.
I love that wool has so many uses from high-end luxury homewares, to the endless clothing options from sportswear through to wedding dresses. There are so many creative opportunities for wool and the real innovators are coming up with some fantastic ideas such as surfboards and disposable nappies. The opportunities are endless. I'm so excited to see what we will be able to see made out of wool in 10 years' time!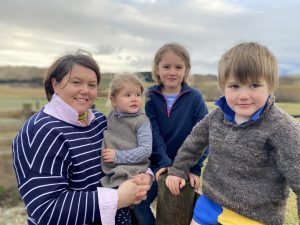 Autumn or Spring?  Spring
Cups in the cupboard: Right-side up or upside down?  Down
Oranges or apples?  Apples
Magazine or book?  Book
Spots or stripes?  I'm obsessed with both so just have to sit on the fence on that one!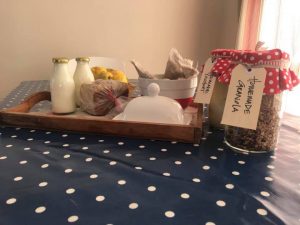 Who inspires you to thrive?
My husband and rock Duncan, and my family.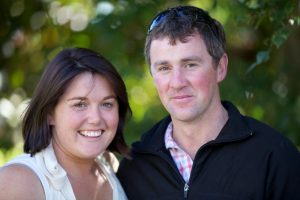 What is it that you love most about operating Havrincourt Farm Cottage?
Being able to make an income from our home which works around family commitments and meeting the interesting people that come to stay. Also being able to share a piece of the place we are so lucky to live.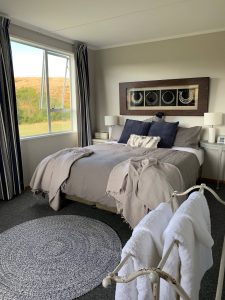 Can you share some wisdom on how women with families in rural areas can thrive and create opportunities to do what they love?
Keep doing the things you love, even if it just teaching those passions to your kids. You never know what opportunities can come out of that! There are so many great learning opportunities out there.
Agri-Women's Development Trust (AWDT) has some amazing courses such as 'It's All About You' which is very helpful for helping women to create these opportunities for themselves.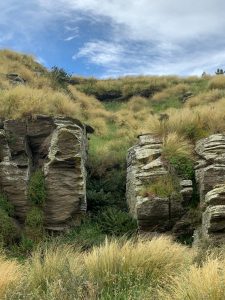 To learn more about Georgie and Havrincourt Farm head to -