Welcome to Soul Chat - Be Inspired by Thriving Women.
Meet Angela Connell from Flow Space Yoga & Wellness Studio celebrating Freedom, Learning, Openness & Wisdom.
What is Flow Space Yoga & Wellness and how important is the word 'flow' to you?
Flow Space Yoga & Wellness Centre is a wellness studio that incorporates yoga, mindfulness, trauma-informed philosophy, psychology and massage as its healing modalities. We share our space with two registered psychologists and two massage therapists. Mental health and community are at the heart of our work.
Flow is a philosophy for me. It is an attitude of leaning into whatever experience shows up and trusting that there will be learning and insight to be gained from maintaining trust in the process. The 'flow' in Flow Space is also an acronym for; Freedom, Learning, Openness and Wisdom. These are four of my key values.
On a lighter note, 'flow' was also the name of my van in which I travelled solo across Australia - living it and being it!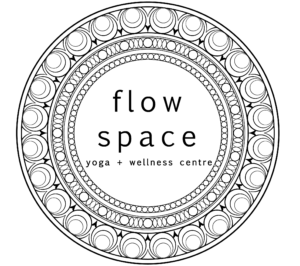 What's your 'Why' for sharing Yoga, mindfulness and wellness?
I teach these practices with the commitment to help others find their own f.l.o.w! To challenge and support people in becoming the brightest and most loving versions of themselves, for the ultimate benefit of humanity and life itself.
In essence, I teach to bring more compassion and healing into the world from my small corner of it. As Lao Tzu puts it;
"I only have three things to teach; simplicity, patience and compassion".
You have had your own 'lived experiences' in healing mental unease and have trained specifically in this area. Do you believe that your own journey to wellness informs the work that you do with clients?
Of course! Whether consciously or unconsciously all of our past experiences inform our current experiences. The trick is to not identify with those past experiences or to project them onto others. It's a line that I walk carefully.
Compassion and healing work require a very good sense of boundaries and non-attachment, whilst being fully connected and present with the clients we work with.
I think the most inspiring way my past experiences help me in my work is by understanding deeply that we all have our own answers, we often just need some gentle encouragement to take a look within and trust that.
You have trained in Yoga Therapy and Trauma-Informed Yoga. What makes these different from conventional Yoga? How do you see that Yoga can assist those that have experienced trauma?
Yoga therapy is the application of yoga asana, breathwork and meditation for therapeutic means and can apply to a wide range of health challenges including children's health and learning difficulties, mental health, chronic pain, injury, cancer, autoimmune disease, and end of life care.
I have trained extensively in yoga therapy and have completed introductory training in trauma-informed yoga. Trauma-informed yoga is a complete reassessment of the importance of the experience of safety for a client's healing and progress.
Trauma-informed yoga is informed by the immense research of Doctor Stephen Porges in 'polyvagal theory' as well as the many years of work done through the Trauma Research Centre in Boston U.S. with David Emmerson and Bessel van der Kolk.
The key message in trauma-informed work is to first and foremost ensure a client is supported to a feeling of safety.
The latest mental health statistics for Aotearoa show that mental unease, anxiety and depression are increasing. How do you believe that the practices of mindfulness and meditation can assist people to be well?
The practices of mindfulness and meditation encourage the practitioner at first to SIMPLIFY. Then to work with what is present one breath at a time and to trust that right there in that moment, they have what they need to cope.
There are just as many ways to describe how mindfulness and meditation can assist people to be well as there are descriptions of unease. These include reducing reactivity and addictive impulses, increasing tolerance to stress, improving sleep, generating compassion, and discovering a deeper meaning to life.
The Buddha is recognised as saying that as many different people came to learn the teachings, he had as many ways of teaching it. A personal message will be found in these practices, relevant to what we need.
As well as offering Yoga, mindfulness and meditation you also facilitate Poetry Flow n' Music sessions. Do poetry & music inspire & nourish you?
Poetry and music have probably been on par with helping my own healing over the years. The way poetry has enabled me to put words to my emotions and anguish has in some way been able to transform a burden or bring insight into the situation.
Music and movement/dance have nourished my body and enabled physical and emotional healing to occur. These modalities continue to bring great joy, meaning and healing into my life.
I am so grateful to these inherent creative gifts we all have available to us as human beings.
What is the greatest gift you receive from your work?
Humility.
You have created your own Yoga studio and business. What advice would you give women seeking to start their own conscious business?
Trust yourself. Don't make comparisons. Ask for help when it feels hard.
Look for how to bring true benefit and inspiration to those around you and you will be nourished in yourself.
Who or what inspires you?
Nature.
Buddhism.
Yoga.
Poets.
Quantum physics.
People - Pema Chodron, Mooji, Rumi, Maya Angelou.
Nature - Mountains, rivers, trees, the sky and every living creature.
In addition to these beautiful things, pain and suffering also inspire me to continue rising to meet each challenge with fresh perspectives and compassion.
Most nourishing winter meal?
Chickpea tagine finished with coriander and natural plant-based yoghurt.
Finish this sentence, 'a women's superpowers are…..'
Natural.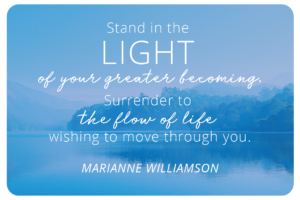 This quote so beautifully illustrates the gentle tension between rising up and letting go. The constant dance between the effort required to be the most loving, wise and compassionate version of ourselves and the simultaneous act of accepting ourselves right where we are, without judgment.
Every rising wave of becoming is carried by and must surrender to the great ocean.
These words also implore us to trust that the great ocean or 'flow of life' is benevolent, loving, and wants to bring great healing through us and to us and to the whole world and every being in it.
It also embodies my daily mantra; 'May life flow through me freely for the benefit of all beings'.
For Freedom, Learning, Openness & Wisdom head to -
https://www.flowspaceyoga.com/