Welcome to Soul Chat - Be Inspired by Thriving Women.
Meet Sylvie Chasteau from Black Shag Boutique Cafe, putting heart & soul into hospitality.
What six words best describe Black Shag Café?  
Boutique, eclectic, quality, sustainable, good vibes.
You state, 'we put our hearts and souls into creating quality food and coffee'. What does this mean?
We foster a culture of professional excellence in our team. Everyone who works for us is really passionate about what they do and takes a lot of pride in their work.
Hospitality is much more than the products we sell - it's the experience we provide through the enjoyment of those products, the experience of being taken care of and being in the 'third space' - not home or work.
Coming to the cafe is taking a moment to pause from regular life. Food and drink stops are a wonderful opportunity to punctuate the day.
Taking a moment to eat flavourful food and drink a beautiful coffee, with good tunes and connection with other human beings is grounding and gives you a bodily experience rather than the constant intellectual experience so many of us live in.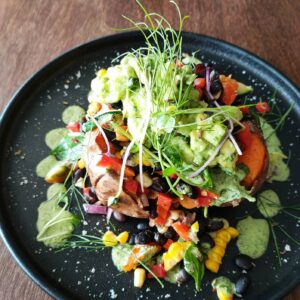 The café uses as many fresh, local ingredients as possible, some of which are grown in your own home garden. Is this part of a wider vision to be more sustainable and celebrate local produce?
Absolutely. The shorter the distance that food travels from ground to plate, the better. Reducing food miles is such a key way to contribute to a more sustainable world. It's also wonderful working with small-scale local food producers.
I think that small businesses are a huge part of cultural sustainability. When you enable more small independent businesses to exist, I believe people can find meaning and wellbeing in their lives.
There are too many giant corporations profiting off disconnected and unfulfilled people.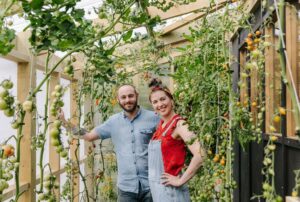 You consider yourself and your team to be hospitality craftspeople. What does this mean and how do you inspire colleagues to view their work as a craft?
In my eyes, a hospitality craftsperson is someone who sees their work as more than a paycheque, but rather an opportunity to develop and express a passion.
Everyone in our team strives towards personal excellence and we encourage this by meeting with each person on a monthly basis, to discuss their performance. We refer to this as the check-in, and have a self-evaluation template that tracks several key measures including their level of challenge in their role, confidence, and if they feel valued.
We use this opportunity to celebrate something that they are proud of, discuss anything they would like to improve, ideas they might have for their role, and next steps. This process keeps everyone on track with their growth and encourages them to be the best they can be in their job.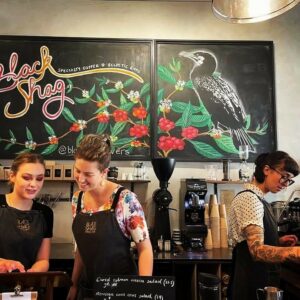 Sylvie, you had been a big city gal. What do you love about being part of the Southland community?
Southlanders are so friendly and welcoming! I really enjoy how relaxed people are about stopping for a yarn.
Sometimes in the big city it feels like everyone is charging around, heads down with no time to give to others.
Down here, there is a generosity of spirit.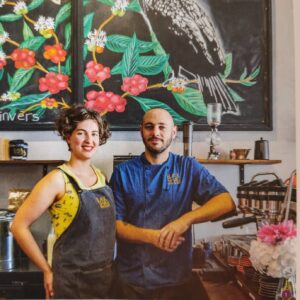 Art is continually featured in the café creating an inspiring environment. Why is art important?
I come from an arts background, with a bachelor's degree in visual arts and several years of high school art teaching under my belt.
The thing I love most about visual art is the way that it can create meaning and connection that goes beyond words.
We change the art exhibitions quarterly, featuring local emerging artists. The variety in artworks creates another layer for our customers to engage with.
There is also a feel-good factor when making a purchase as 10% of sales are donated to the charity Forest and Bird.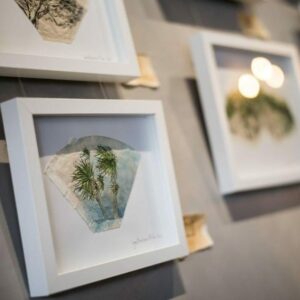 Do you value genuine human connection at the Blag Shag?
Of course! This is the foundation of our business.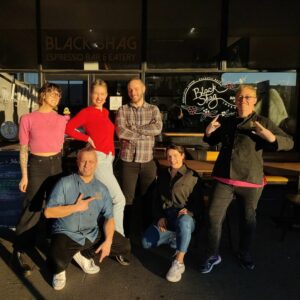 What's your all-time favourite Black Shag dish?
From the Classic's menu, you really can't go wrong with Evan's Turkish Eggs. It's rich but punchy and I never get tired of it.
Evan (our chef) is always changing the blackboard specials too, and it's a real treat to try all of his creations as they are developed.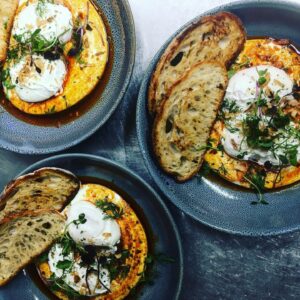 What is the greatest gift you receive from your work?
This is a hard question. There are so many things that I love about my work. I love when the team comes together and service flows smoothly.
I love when others create something they are proud of, whether it's a beautifully poured coffee, a new dish, a skillfully handled customer service interaction.
I love sitting down and nutting out systems and processes and trying to put the puzzle of running a business together. I get a huge kick out of installing artworks, creating print and digital design for the cafe, and even balancing the books.
I think overall I would say that the greatest gift my work has given me is in learning who I am and what I am capable of. There have been moments in the journey that I have felt like giving up, but I have dug deep and found strength in myself that I otherwise wouldn't have known was there.
I have become more resilient and found a sense of trust in myself, which is a great gift.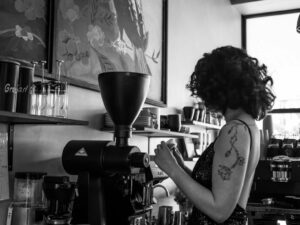 What advice would you give women seeking to live their dreams?
In a business sense, ask for lots of help and know your numbers. Also, check back into your overall vision regularly.
It's great to have a mentor who gets you. Find one of these and also reach out to others on similar paths for a sense of connection.
Finish this sentence, 'a women's superpowers are…..'
Divine femininity is a superpower (but I'm not sure that it only pertains to women). To me, the feminine energy is soft, intuitive and creative.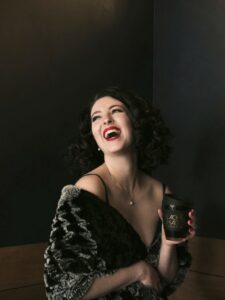 I love that these two cards illustrate how having a generous spirit is beneficial to everyone.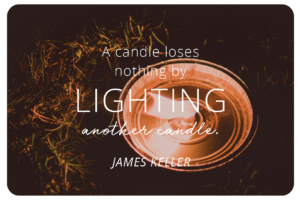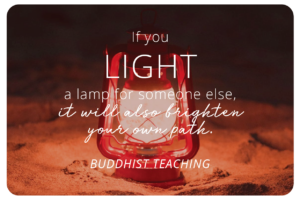 To get down on some Black Shag deliciousness visit the cafe or check out the website -