Welcome to Soul Chat - Be Inspired by Thriving Women.
Meet Carolyn Enting from the award-winning lifestyle and wellbeing publication, Good magazine.
Carolyn, you are the editor of the award-winning Good magazine. How did you come to land such an awesome role?
It was good timing! I had recently resigned from my job as associate editor of another magazine and was holidaying in Guatemala when I received a message on LinkedIn from publisher Melissa Gardi asking for a meeting.
When I returned, we had a coffee and she offered me the role. Ironically I'd spent 30 minutes telling her about how much I loved my new freelance life but when the role she offered me was Good magazine I knew I had to take it.
It was the only title that would have swayed me at that time because of what Good stands for when it comes to conscious living and the environment.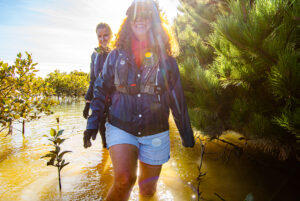 Good is a premium lifestyle and wellbeing publication for conscious consumers, driving positive conscience-living. What does a conscious consumer look like? And what does it mean to drive positive conscience-living?
The conscious consumer is someone who cares about the wellbeing of the environment as well as the wellbeing of others and themselves. I like to call it wellbeing for you and wellbeing for the planet.
When I joined Good as editor six years ago to help the title go through a brand refresh I coined the tagline 'for conscious-living people who love life, style and the planet'. Because as a former fashion editor I'm living proof that you can love fashion and still give a shit, and I wanted to get as many people on the journey as I could.
At Good we aim to uplift and inspire in the conscious-living space. We're proud that our advertisers are on that journey with us too.
In your view what makes Good magazine so, well, good?
We are a trusted publication that has been a voice for the environment and conscious-living education and inspiration for 13 years. We also walk the talk.
Good is printed on FSC (sustainably forested paper) with non-toxic vegetable ink.
And most importantly the content is inspiring and interesting, spread across lifestyle pillars of wellbeing, beauty, food, home, garden, travel and environment. It's a Good read!
Are women strongly represented in the media world of Aotearoa?
I believe so. Especially in magazine media where women are the dominating factor. Perhaps that is because most magazines are targeted to women.
Do you believe there is a shift in the culture of magazines away from a patriarchal & hustle model to one of equality & community connection?
Yes, most definitely. Thankfully the voices of people on social media have broken through and magazine publishers can no longer carry on perpetuating myths of what is "normal" and "beautiful" which have been so damaging to so many humans.
Diversity is now celebrated and has more visibility, and while there is still some tokenism that needs to be broken down and we have a way to go, in the past few years especially I've been glad to see positive and meaningful change.
How can we use media for the power of good?
A good question! That's what has kept me in journalism – the power of the pen. It is an opportunity to tell meaningful stories. Spread the word about good people doing good stuff. Introduce people to eco-conscious brands and ways to help protect our precious planet.
Media can bring people together. It can lift people up. It also has a duty to the community to uncover the truth. That's why I donate to Stuff because it is important to keep good journalism alive. I did some work for Stuff when I was a feature writer and fashion editor at The Dominion Post for 11 years.
I learned so much over that time and will always be grateful for the incredible training ground and respect for the people I worked with.
What gives you the most hope for our future?
Information is power. We now know a lot about global warming and we can also collectively make a difference. That starts with our individual actions. Conscious-living has also become more mainstream which makes me extremely happy and optimistic.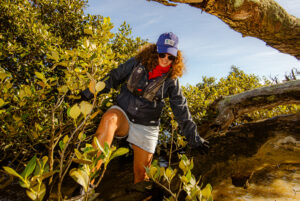 What is your personal vision for your life?
Gosh, that's a huge question. I few years ago I could have written a book on that – ha ha. Currently, my purpose, as it has been for the past six years, has been to make a difference to people and the environment as editor of Good.
It's hard to predict how things will go with the Covid-19 pandemic but I do want to travel again and bring stories of people around the world – doing great stuff – to life through words and photography.
Family is hugely important to me. I want to be around to see my niece and nephew grow up, and to be there for my Down Syndrome sister Stella who is one of the biggest lights of my life. And I just want to be happy and healthy.
I have an incredible partner and as a unit we've lost both sets of parents. Each going through loss both early and later in our lives. Losing my parents has taught me to live in the moment, one day at a time. And when the time feels right to move on to a new challenge, I will know. That's how I ended up in Guatemala!
How do you prioritise your wellbeing?
I have learned to say 'no' more, which has been hard for a people pleaser but I'm getting there. I recently interviewed Karen Walker who in her interview said: "When you say 'yes' to something to you are saying 'no' to something else". And that is so true!
I regularly see my chiropractor and practice yoga – stretching is sooo good – and I go for regular walks in nature. I mostly eat a plant-based diet and recently started intermittent fasting 16:8. My body and mind is loving it.
Finish these statements – 
Women are… equal to men.
Thriving is… being in the flow.
My menstrual cycle has taught me… that hormones can make you feel crazy sometimes.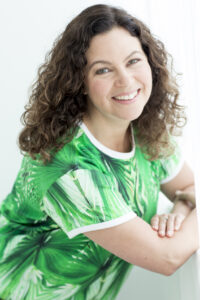 A quote that resonates strongly with me is:
"Almost everything will work again if you unplug it for a few minutes, including you."
Favourite Shine Your Light card and why?
We are all on our own journey and there is enough for everyone so champion and support one another. The more candles shining brightly the better!
To get better than 'good' inspiration head to -