RESTED, NOURISHED, INSPIRED
"Retreats are a potent way to remember what is important in life. Our breath, meaningful human connections, nature, conscious movement, rest & soul nourishment. They are a powerful gateway to living a life with heart & soul."
WOMEN'S WELLBEING RETREATS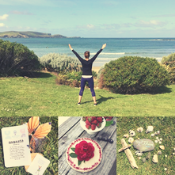 Are you ready to relax in paradise? 
Would you like to feel inspired & peaceful?
⁠
A beautiful time awaits you at the Wellbeing Retreat in a stunning & private location at Lake Tekapo.
Retreat to a place of profound natural beauty; take time to nourish your body, mind and soul.
Add to that delicious wholefoods, Yoga, Qoya, inspirational sessions, like-hearted community and space to relax – a magic weekend awaits. 
With only eight women attending, this is a bespoke and personalised retreat.
Join us for a truly empowering, nurturing and soulful journey.
FEATURED IN GOOD MAGAZINE
Isolation Bay, Lake Tekapo
1-3 april 2022
'Dare to Rest' Retreat April 2022
ROOM WITH A VIEW
Booked – please choose another option.
King room with private ensuite, bath & lake view.
$905 pp
SPACE TO YOURSELF
Booked – please choose another option. 
Private queen room with shared bathroom.
$855 pp
SHARE WITH A FRIEND
Booked – please choose another option. 
A twin-share room with one queen bed, single bunk and shared bathroom.
$805 pp
BUNK IN
A shared space for up to four people with a shared bathroom.
$755 pp bottom bunk
$705 pp top bunk
"Overall the retreat in my eyes was 10/10. Amazing programme, lots of laughs and great workshops. I came away with such an amazing feeling."
"It was an absolutely wonderful weekend. I enjoyed every aspect of it and would enjoy making it an annual event. It has helped bring focus and balance in every aspect of my life. I have clarity on how I'd like to move forward from this retreat."
"The venue has an amazing outlook and feeling. I will definitely be recommending your retreats to others."
"I loved the size of the group. It was small enough to feel connected, safe and honest. Great facilitators with a nice balance of yoga/workshops/food and own time."
"I am going home INSPIRED."
"I have learned that I must push the pause button occasionally & retreat into that private place in my soul…"
Immerse yourself in the goodness of harmonious movement, conscious breathing, uplifting community and peaceful energy. These soulful workshops offer a deepening of our
practice by exploring an aspect of Yoga or Qoya in more depth than is possible within the timeframe of the regular class setting. Come and join the goodness!
"Thank you so much for an amazing day! You created such magical goodness . I really loved that Yoga Nidra."
"Thank you for organising such a beautiful day, I loved it! The setting was absolutely perfect and I certainly enjoyed taking some time for myself and nourishing my mind and body. I look forward to your future events."
"Thanks so much for the Yoga & Crystals event. I'm grateful to have had the opportunity to meet new, vibrant people as well as experiencing joy and laughter."
"Kate lovingly guided us into the journey of Qoya and one could feel the life-force moving in oneness. With such embodiment, how could you not listen to the song of the soul; the perfect union of the divine in you, which meets the divine of others?"
"Thank you for the most peaceful day. From the beautiful setting, to the amazing lunch, to the wonderful circle of woman. A truly uplifting restoring day. What a privilege to be there. Much Gratitude."
"Kate playfully and consciously lead us through an enlivened experience of soul. Our intention certainly was to have fun, let go and be present with what truly felt wise and free in our body's as we danced and swayed. She encouraged us to embody our feminine essence, which had all in attendance dancing, swaying, and moving to the groove."
RESTED, NOURISHED, INSPIRED
"Yoga & Qoya events are awesome ways to deepen our experience of living with heart and soul. We connect with heart-centred people while feeling simultaneously enlivened and peaceful.  A tonic to our daily commitments; events offer a soothing balm of peacefulness, joy & harmony."
To register for an event or retreat or to find out more,
contact Kate at 021 033 7626 or [email protected]